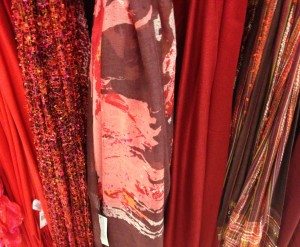 The rectangular scarf has a fairly wide range of sizes and variations of the dimensions of the rectangle and are worn in different ways depending on those sizes.
The traditional hijab scarf of middle eastern women is usually between 60 and 75 inches long and can run from 17 to around 26 inches wide. Most hijabs are 70 inches long and 18 to 22 inches wide. These are worn as the traditional head scarf, with the point of the diagonally folded scarf falling down the back.
Then there are the fashion house scarves. Consider the famous Louis Vuitton rectangle leopard print which weighs in at a generous 80 by 52 inches, or Chanel's 29 by 92 inch designer scarf. That's a whole lot of scarf.
The rectangle scarf with a good length is the scarf of choice for the more complex styles which loop the neck multiple times, and the lightweight silk and wool, cashmere or pashmina blends are excellent for these styles.
They make lovely wraps as well, in the wider sizes, and are a cozy and welcome addition to any winter wardrobe.