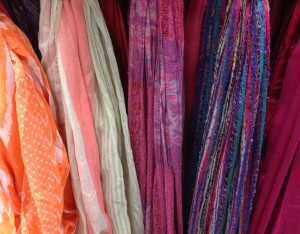 The same way there is nothing like curling up in real cotton flannel sheets on a cold winter night, or snuggling into a real cashmere blanket or wrap; great scarves come from great natural fabrics and the weaves of those fabrics that deliver warmth, softness, sheer elegance and amazing feel and texture.
The way in which a fabric is produced from the fibers of which it is made is as distinct and characteristic of its final result as the fibers themselves. Weaving and other fabric finishing processes have developed throughout modern history which greatly alter the strength, look and feel of the fabric. Processes can include forms of layering, caustic baths with subsequent counter-balancing acid washes and even singeing or slight burning to remove stray fibers from a finished thread in some cases.
Certainly, a fine silk scarf is a thing of great beauty – but a silk scarf can be made that results in a raw silk, satin, crepe or even chiffon scarf and each has its own feel, texture, weight and look.
It's true there are some great blends of more modern creations, rayons, nylons, polyesters and others, but the real classics are hard to beat: silk, cashmere, pashmina, linen. wool, alpaca… We'll have a look at all of them and more.